Teeth In A Day / Same Day Teeth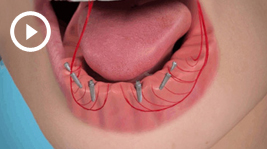 Thanks to major advances in dental technology, we can now provide fully fixed teeth in just a single visit for almost anyone. Even if you have been previously told you do not have enough bone to support dental implants, we offer the ultimate solution.
Our award winning dental surgeons have training and years of experience in cutting edge techniques that allow us to give you what you need in one visit where elsewhere it could take months or even years with multiple lengthy visits.
How does Teeth In A Day / Same Day Teeth work?
Teeth In A Day / Same Day Teeth it is as simple as it sounds – come in to our clinic and leave later in the day with a full set of your own fixed teeth and a confident new smile:
Arrive at Glenholme Dental Centre first thing in the morning, with your denture or missing teeth
Any teeth that are not useful are removed and specialised dental implants are gently placed
Our in-house dental laboratory will then make new teeth while you wait in our relaxation area
Later in the day, your new teeth are fitted securely in place
You can enjoy dinner that same evening with new, fixed, solid teeth
"John's 'Teeth In A Day / Same Day Teeth' experience "
Some people feel that this is an expensive treatment but in my line of work, and in my own personal life, I simply have to feel comfortable and confident. I meet customers on a day-to-day basis so having the confidence to smile and look natural and comfortable has no price tag for me. The implants took less than two hours to fit and it felt like I was having a filling or a wisdom tooth removed. I was able to eat that afternoon and even went out to the cinema with my wife that night! My smile looks and feels natural and I haven't looked back. Stop thinking about it do it!!
What are the advantages of 'Teeth In A Day / Same Day Teeth'?
Teeth can be replaced in just 1 day so you can eat the evening of your treatment
Improved appearance, self-confidence and quality of life
Implants stimulate the bone and keep it strong and healthy
Restored oral function, so you can start eating the foods you love again, such as steak or crunchy apples
No need to wear your dentures ever again
Comfortable process from start to finish
'Teeth In A Day / Same Day Teeth'
5-year guarantee
With a success rate of over 98%, we are happy to repair or replace your new smile, subject to terms and conditions, for a period of 5 years from the date of implant placement.