Dental Implants Basingstoke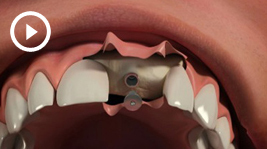 An implant is a bionic tooth root that lets you restore missing teeth – this should be before an implant crown which is designed to provide you with a natural looking and fully functional tooth. The implant is made from specially prepared titanium, which allows it to integrate fully with your jawbone (in about 6 to 8 weeks).
For multiple missing teeth, implants can be used as a base to form a bridge to span a larger area without affecting any teeth nearby.
Benefits of dental implants in Basingstoke include:
Longevity
Comfort
Preserving tooth tissue
Replacing missing teeth
Getting back your natural smile and confidence
Keeping your dentures in place (which stops problems with loose dentures and allows harder foods to be eaten)
Wide-ranging solutions to suit everyone's budget.
The Dental Implant Consultation in Basingstoke
Choosing to have implant treatment is a big decision and something worth discussing with your loved ones. If you are thinking about getting dental implants in Basingstoke, it is essential that you come in for a consultation where your suitability for this particular treatment can be thoroughly assessed. Here is what you can expect at a typical consultation:
1) Part of the consultation will involve answering questions about your medical history, your lifestyle and habits, as well as how you would like your smile to look after treatment. Factors like your oral health and jawbone density will also be taken into account.
2) X-rays and photographs will be taken of your teeth and mouth and you will also have a detailed dental examination. This will give the team a good idea of your current oral health and what treatment will give you the best results.
3) This initial consultation is a good opportunity for you to ask any questions that you might have about the treatment and to discuss your preference for sedation. Based on the current state of your teeth you may need to receive a few treatments with the hygienist in preparation for the implants.