The first stage of dental implants in Basingstoke – or anywhere else for that matter – is a consultation appointment with a specialised dentist. If you've been weighing up your dental options when it comes to replacing a missing tooth, talking with our dentists at Glenholme Dental will help you determine whether this is the right treatment for you. We will review your case and present all the replacement options available to you, including bridges and dentures supported with dental implants in Basingstoke.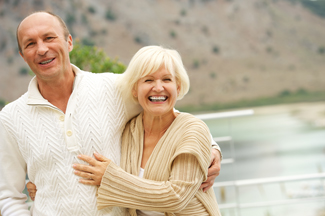 Explaining dental implants
Dental implants are a permanent and highly successful tooth replacement option offering our patients many health benefits that other treatments just can't give. Essentially, dental implants are artificial tooth roots, which are surgically placed into the jawbone in order to hold replacement teeth in place.
The implants themselves look very similar to small screws and are usually made from titanium or a titanium alloy, which are compatible with the human body. Once surgically embedded in the jaw, dental implants fuse to the natural bone tissue and become part of your natural anatomy, providing security and firmness comparable to healthy tooth roots.
Dental implants in Basingstoke
Choosing to have dental implants is a big decision, and something you should discuss thoroughly with your dentist in Basingstoke. During your consultation appointment, your dentist will examine your teeth and gums in detail and determine whether you are eligible for this particular treatment.
During the consultation, you dentist will discuss your oral health and evaluate your jawbone quality and density through x-rays. This is really important because the success of dental implants relies heavily on you having healthy bone tissue. Patients with inadequate bone volume may need a bone graft before implant surgery. However, sufficient bone tissue is not a prerequisite for some treatments with dental implants (i.e. Same Day Teeth).
This initial consultation is a good opportunity for you to ask any questions that you might have about dental implants and to discuss any sedation options if you are a nervous patient. Based on the overall state of your teeth and gums, you may need to visit the hygienist for a few treatments before the beginning of your dental implant treatment.