If you are considering dental implants to restore your smile and oral function, you are encouraged to schedule a consultation with a dentist to learn more about the procedure, the expected results, and the cost of dental implants in Basingstoke.
At Glenholme Dental in Basingstoke, dental implants are our treatment of choice for replacing one or several missing teeth. Unlike conventional dentures and bridges, dental implants are strong, durable and can last a lifetime with proper care. Dr James Kleiber and his team are here to answer your questions and determine if dental implants are right for you.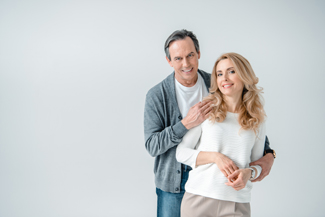 Oral examination
The first part of an implant consultation involves a thorough examination of your teeth and gums. Dr Kleiber will examine the quantity and quality of the bone in the area from which the teeth were extracted. For dental implants to be successful, the ridge must have a minimal thickness of bone. Dr Kleiber will also examine the rest of your teeth and look for signs of gum disease or tooth decay.
He will then take some x-rays of your jawbone to discover the best locations for the placement of your dental implants. He may also perform a computer tomography scan (CT scan).
Discussion and case treatment plan
Discussing your health background and lifestyle habits with Dr Kleiber is necessary so he can decide on the best dental implant procedure. He will want to know if you smoke or take medications, suffer from diabetes or heart disease and what your oral care routine looks like. Once he has all these information, Dr Kleiber will answer your questions, discuss the dental implant treatments available and help you decide which one is the best for your individual case. These may include implant-supported dentures and bridges, single tooth implants, All-on-4 dental implants or other options.
Once you decide on the treatment, Dr Kleiber will create a personalised treatment plan and review the details with you. The most important points include the number of dental visits required, sedation options, post-surgery and healing issues, taking care of your dental implants and overall cost.
If you want to learn more about dental implants in Basingstoke, contact us today.