Thanks to rapid advances in dental techniques and technology, dental implants in Basingstoke are now available to almost anyone who needs to replace one or more missing teeth. Glenholme Dental Centre offers a number of implant treatments, including Teeth in a Day – with which you can walk into the practice with missing and/or failing teeth in the morning, and walk out the same day with a brand new functional set of teeth – you'll even be able to eat your dinner with your new teeth that night.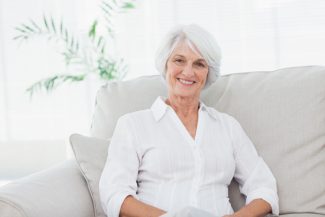 How dental implants in Basingstoke work
At our Basingstoke dental centre, we are always keen to underline the importance of replacing missing teeth, for the sake of your oral and general health. Dental implants are often the best way to do so, offering a permanent solution to tooth loss and one that preserves the health of your jaw bone as well as keeping your new teeth firmly in place.
A dental implant is a small titanium screw that is placed in direct contact with your jaw bone during minor oral surgery here at our Basingstoke clinic. Most people only need local anaesthetic for this procedure, which is intricately planned using the latest technology beforehand, so that it is pretty simple from a patient's perspective.
New teeth – in the form of a single crown, fixed bridgework, or a denture – are then attached to abutments on top of the dental implants, restoring natural action and appearance to your smile. In the case of Teeth in a Day (also known as Same Day Teeth) after removing any failing teeth and carefully placing your dental implants, your dentist will carefully create a set of realistic-looking new teeth to attach to the implants. In other cases, a period of healing may be required before permanent teeth are attached.
Teeth in a Day treatment from Glenholme Dental Centre in Basingstoke comes with a five-year guarantee – as long as you take care of your new teeth and dental implants, practise excellent oral hygiene, and come back to our Basingstoke clinic for regular check-ups and hygiene appointments, they could last a lifetime.